Our Culture
We are an Argentine software company, founded in 2009, with the intention of creating a workspace where we could be happy doing what we like. Based on respect, trust and achieving quality results, we create a space where collaboration and transparency are intrinsic in everyday life. From these characteristics, we break with the hierarchical structure of organizations. In a horizontal structure and a participatory culture, people are the most important.
Our way of working is based on 3 pillars:
The technical excellence, reflected through the technology, methodology and results of the projects we develop.
Sincere and long-term relationship with the client, based on the commitment to their objectives and the added value of the solutions generated.
Human quality, founded on the opening of internal management, equality of possibilities and responsibilities in all its members, with a strong focus on group unity.
Organizational Structure
With horizontal structure we mean that there is no one over anyone; Everyone has a voice and can give their views on different day-to-day issues.
The structure is divided into 3 circles:
Roots: Most of the pines are roots, this means that we have a say in the company management issues.
Aspiring roots: While most of the pines are roots, newcomers still do not decide on critical business issues. They need to soak up our culture, focus on the project and show that they are interested in participating in the management.
Partners: The partners are roots that assume the legal responsibility of the company.
Decision Making
It sounds crazy to think that nobody tells what to do to anyone, but it is the extreme trust that leads us to be responsible and pull from the same side of the rope. However, we don't always think all the same and we tend to debate a lot about every decision we make. The important thing is that every decision is taken by consent, that is, it is sought that there is no one with concerns or against what is being proposed. This is different from consensus, where everyone is in agreement, or voting, where there may be people who just don't agree with the proposal.
There are several groups and times when the different topics are addressed:
Roots meeting

It is a monthly meeting where we analyze fixed issues such as company numbers (margin, billing, expenses, etc.), possible new projects and rotations between teams, and also sporadic issues (such as moving into a new office, paying trade mission expenses, etc.). They are usually resolved at the meeting itself or, otherwise, it ends up being defined through a temporary group put together only for that purpose.

Stable groups

They deal with issues such as recruiting or buying new computers, among others. They are more consolidated groups, formed voluntarily based on willingness and experience of the people who are responsible for monitoring them.

Ad hoc groups

They arise due to topics discussed at the roots meeting, general concerns or comments by email or similar means. It is usually resolved by the same means with the people who participated in the discussion. For example, if we want to order more fruit because it is not enough for everyone in the office.

Any idea is valid to be treated, it just has to be communicated through a proposal and, if approved, a group or person must be responsible for carrying it out.
Growth
The recurring question of skeptics is "Does this system scale?", and it is something that we ask ourselves each time a new pine joins the team. We started with 4 people, and we kept changing and evolving to be able to maintain the same culture all along the way.
Our experience tells us that the keys to sustainable growth are organic expansion, the ability to cope with uncertainty collaboratively and adapting without losing values.
In relation to our quality pillars, growth is protected by:
Keeping the focus on people being important and preventing that anyone becomes a plain "file number"
Demanding the technical quality, making sure we don't lower our standards in case of fast growth
Establishing long-term relationships, both with customers and among the pines. People wanting to stay and grow with us is essential.
Recruitment Process
It consists of 3 interviews where we get to know and evaluate the person.
In the first interview we are interested in meeting the candidate both professionally and humanly. They are also told about the company and our way of organizing, since we are interested in making sure that the person loves the idea of working together as much as we do.
After this initial talk, the candidate is asked to solve a technical exercise according to their seniority. We like them to do the exercise in their homes and without time limits, so they can show what they really know and how they work.
In the second interview the candidate talks about the developing process of their exercise, explaining the decisions they made.
If everything goes according to plan, the third step is a group interview, where as many pines as possible attend. It is a more relaxed interview, where the idea is to get to know the person we are going to work with and vice versa.
After the 3 interviews, we decide whether we want the candidate to join team, looking for everyone involved to agree with the decision.
Pine path
The idea is that each pine has one or more mentors with greater seniority, both in skills and in the company. Together, they define their short and long term objectives to be able to develop professionally, aiming to meet the needs of the person and the company. In addition, this process is useful for salary reviews, discussed below. Based on the objectives achieved, the pine can choose whether or not to propose for a rate increase, associated with personal performance.
Open-book Management
If we want people to be able to make informed strategic decisions and work autonomously, they need to have access to the numbers behind 10Pines. This is why all Roots have access to:
Company numbers
How much are customers charged? How much do we pay for rent? What margin do the projects have? All roots can answer these questions and more.
This information is accessible at all times, and each month at our roots meeting we closely monitor its evolution so that everyone takes it into account in their day to day.
Salaries
From the beginning we wanted to create a healthy environment, where knowing how much someone else earns is not a taboo subject. If salaries are defined fairly and without surprises, there is no need to hide this information.
There are two types of salary increases: by inflation and by growth. The inflationary adjustment takes place at least twice a year and is the same for everyone.
On the other hand, there are 3 growth increase revisions per year, where a group of stakeholders meets to review the salary scale. The group is formed by roots and they switch from meeting to meeting, always trying to include at least one member of each team to have references from their peers.
With the evaluation that each pine has done with their mentor as a starting point, we analyze if the salary is representative of their responsibilities. If a scale adjustment is necessary, an increase is proposed.
This proposal is sent to the Roots group for approval. Until all objections are resolved, it is not released.
Profit sharing
At the end of each fiscal year, we divide a percentage of the company's profit among all the pines.
Over the years we have been developing and iterating together a formula to define how we divide this profit, taking into account factors such as dedication, seniority and the experience of each one.
We believe that this is one of the best ways to foster responsibility and the sense of belonging, where each pine is committed to the management and growth of the company knowing that this has a corresponding reward.
Pine Profile
We are curious by nature; we seek to learn from everything we do, especially the challenges. As a consequence, we are constantly growing and trying to transmit everything learned to the rest of the pines.
With a questioning and proactive personality, we seek to achieve our objectives in the best possible way.
We are very interested in keeping up to date, so we invest time in researching new technologies, attending conferences and meetings of the kind. We also like to spread what we learn, thus many pines are teachers in universities (and many others were their students!) or in the courses we teach.
How we work
Our culture is strongly linked with agile methodologies. We work iteratively and incrementally in order to provide, as quickly as possible, valuable and quality software. This methodology allows continuous feedback and changes in the product while it is being built.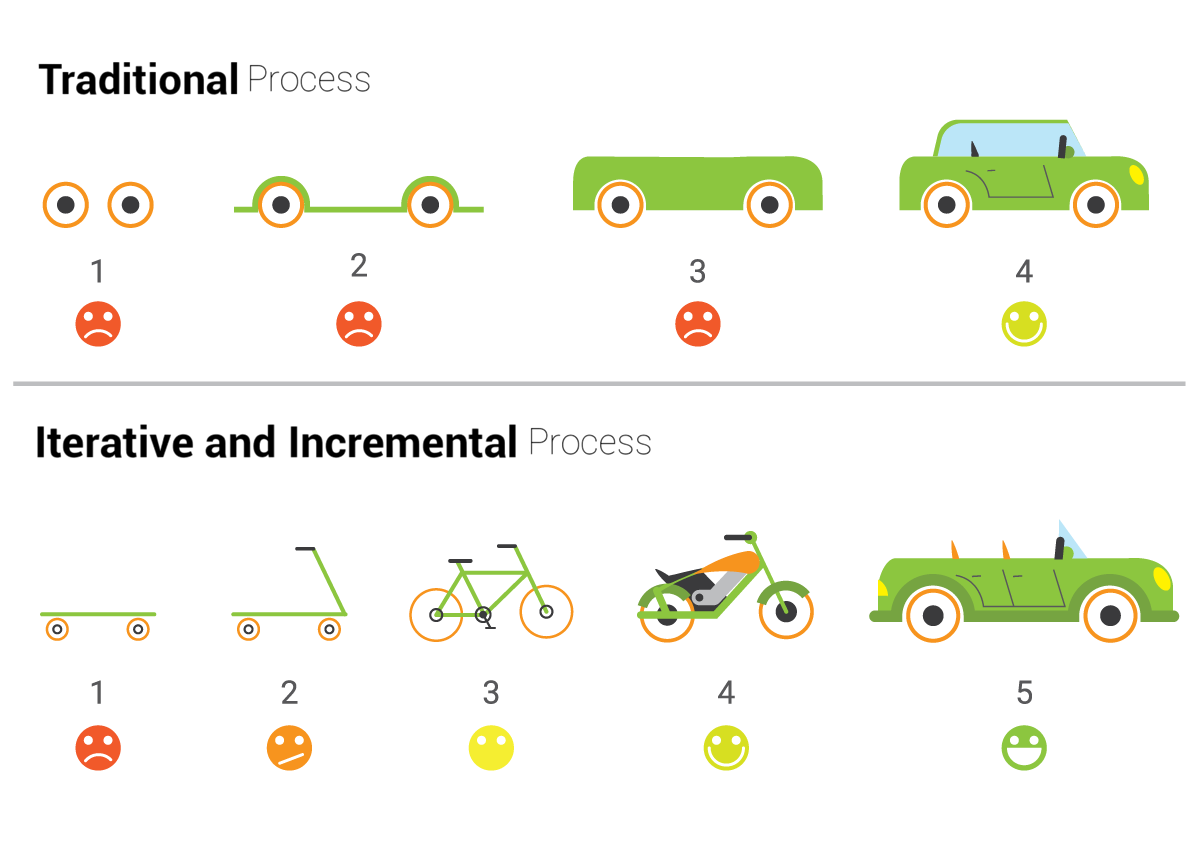 We work together with the client and take care of the development completely, coordinating with the business experts to capture the vision of the product and thus achieve the best possible result.
We form teams of pines that combine the skills and experience required; if the client has its own development team, we merge to maintain the same vision. In addition to adding value to their projects, we always aim to improve the quality of their processes.
Communication between teams
Every Friday we make a meeting between all teams, such as the daily standup with each client. The idea is to tell what we were doing during the week, the challenges, good and fun things. Many times, the standup allows new conversations about the new technologies learned, or even some knowledge can be valuable for other teams that are working on something similar.
In addition, internal issues are communicated, such as income from new pines, new training courses and administrative announcements.
No clients Friday
It is a space dedicated to research, talks or any activity that does not involve working for a client. For example, if a person or group of people wants to investigate a new technology, they can agree and put together a project.
In the same way, if someone has a talk they can propose it in this space with the intention that all interested pines attend.
We take half a day every Friday, or a full Friday every two weeks. This fosters the relationship between coworkers, since the groups formed include pines that don't usually work daily on the same project.
Flexible schedule
As many of us are students, teachers or parents, the possibility of home office is available any day of the week. Each organizes their schedules inside and outside the office to their liking, agreeing with their teammates.
We like to always work in a relaxed and motivating environment. That is why the sense of responsibility is extremely important.
Each pine has an assigned dedication, which is the daily average number of hours they commit to work. Anyway, if one day someone cannot meet the agreed amount of hours, they can compensate at another time if they wish, since we have an hourly rate that makes our salary variable.
The hours and tasks performed daily are written down by each person, without any control, in an application that we use for management. At the end of the month, each person's salary is equivalent to the hours they charged.
Retreat
Once a year, we take a day to work on the management and objectives of the company. We check improvement areas, through retrospectives and other activities, working in different groups where ideas and proposals arise to achieve in the short and long term.
This activity not only serves to plan and improve on the management of the company, but it is also an excuse to work together with a common purpose, unlike the daily work that occurs between people of particular teams.
"Many small people
in small places, doing small things,
they can change the world."